Introduction
Before becoming an Enterprise Car Rental commercial star, Martin Brodeur was surprisingly a NHL goaltender. He was so good some even refer to him as the best of all-time. Nowadays, he hilariously responds to "did you leave you cup in your car?" With, "which one? I have three!"
Let's just say Marty wants to leave his acting gig behind and return to the NHL. What if, instead of being on the ice, he takes a place behind the bench? New Jersey Devils' fan would love to see that. Speculation of Coach Marty Brodeur has been on the Devils' fan wish list for a little while now.
How Previous Stars Did In The Past
Almost every hockey coach played the game at one point, with most seeing time in either the AHL or the NHL. However, very rarely do star players succeed in a coaching position.
Sure, there a few here and there. Examples being Jack Adams Award winners Jacque Lemaire and Gerard Gallant. Then there is players like the consensus greatest hockey player of all-time Wayne Gretzky, who had a less than successful tenure as head coach of the Arizona Coyotes.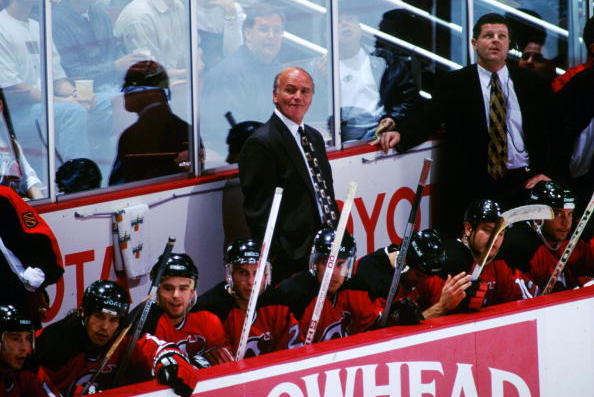 What about Patrick Roy?
Another example of star player turned coach is Patrick Roy. The comparison gets even better. As like Brodeur, Roy was also a superstar goaltender. The Roy versus Brodeur debate can easily go on for hours, especially if you are debating a Colorado Avalanche or a Montreal Canadiens fan. If you are debating a Canadiens' fan the conversation might even turn to French. But it's okay, you should be ready to defend Marty in any language.
Roy took over as coach of his former team the Colorado Avalanche in the 2013-2014 season. The impact was immediate, as the Avalanche shot up the standings and earned a playoff spot as one of the NHL's top teams. Roy was named that year's Jack Adams award winner for his efforts.
The success was short lived, as the Avalanche missed the playoffs the next season and the season after that. Roy resigned from his position and the break up was less than pretty.
After being replaced last minute by Jared Bednar, the Avalanche would fall faster than a led balloon and finished the 2016-2017 season in last place. Colorado was so far and buried you needed an archeological dig to find them at the bottom of NHL the standings.
In retrospect, was Roy a good coach or just the product of an overachieving team? His first season saw the additions of Nathan MacKinnon and goaltender Sergei Varlamaov, who exceeded career expectations. The next two seasons saw them fall back down to Earth. In addition, the Avalanche would rebound and return to the playoffs one season after Roy's departure.
Now Back To Marty
One major aspect Roy had that Martin Brodeur lacked was coaching experience. Before becoming Colorado's head coach, Roy was a long time coach for the Quebec Ramparts of the Quebec Montreal Junior Hockey League. Roy was successful with the Ramparts making the playoffs every year during his tenure and winning the Memorial Cup in his first.
Brodeur's coaching resume is much shorter. Since retiring from the NHL, Brodeur has stayed involved in the NHL with front office positions.
First, he started off as assistant general manager with the St. Louis Blues. This before becoming the executive vice president of business development with New Jersey. After former Devils' general manager Ray Shero was fired, Brodeur become an advisor to hockey operations, similar to his position with St. Louis.
While with the Blues, there were a few times Brodeur served as an unofficial goaltending coach with the team. But, that remains his only "coaching" experience at some type of professional level. Brodeur also stepped down from that position after a few months.
So Is Coach Martin Brodeur In New Jersey's Future?
It's unlikely Brodeur wil lever take on a coaching challenge. His post-playing career is almost entirely in the front office. Becoming a coach would be a complete role reversal. Seeing Brodeur as a general manager, or in hockey operations remains much more likely.