The Vegas Golden Knights took the league by storm this season and surprised everyone that follows hockey. That couldn't have been possible without many players stepping up and playing well above what most thought they were capable of, including free agent David Perron. After bouncing around from four teams in three seasons (Oilers, Penguins, Ducks and Blues), Perron was left exposed by St. Louis in last year's expansion draft and Vegas took a chance on the crafty winger – it paid off. Reaching a career high in points with 66 in 70 games, Perron had his best season since 2013-2014 with the Oilers when he had 28 goals and 57 points. Perron did struggle a little in the finals against the Capitals and was a notable scratch in game four, but his entire body of work this year was impressive.
Now the 30-year old is set to become a free agent, though he did make his feelings known that he'd like to be back with the Knights next year. However, we've heard this song and dance from free agents in the past that end up going in a different direction. If Perron does decide to seek other opportunities on July 1st, should the Devils be a player in the Perron sweepstakes? Maybe.
Perron doesn't exactly fill a need for the Devils, of all the positions that need an upgrade left wing is at the bottom of the totem pole with Hall, Johansson and Wood filling the top 3 spaces it would be difficult to imagine Perron getting the same minutes in New Jersey as he did with the Knights. His style of play would definitely fit the Devils as he uses his speed well in transition and helps to generate a ton of chances off of the rush.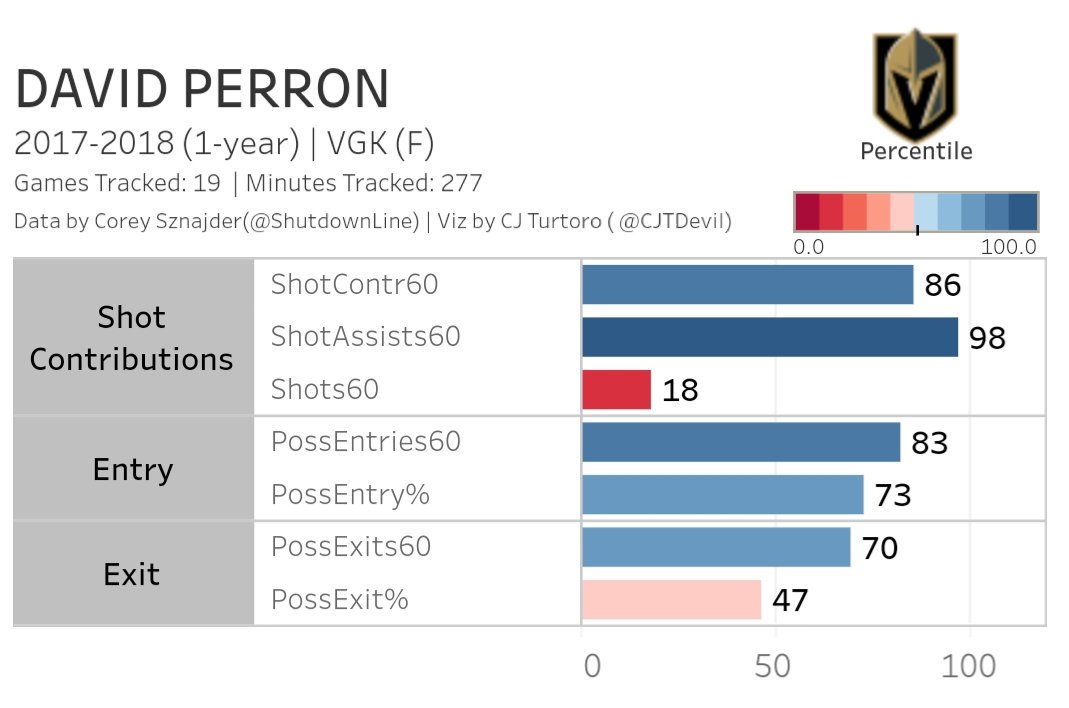 Credit to CJ Turtoro and Corey Sznajder for visualizing and tracking this data. As implied by his lofty ratio of 16 goals to 50 assists, it can be assumed that Perron is definitely a playmaker first and foremost. The stats definitely back that up as seen by the incredible discrepancy between his shot-assist/60 and shot/60 contribution (for reference, Hall's shot-assist/60 was in the 82nd percentile). It's important to remember the amount of games tracked here, only 19 for Perron of his 70 regular season games. It's not a perfect representation of his true value to the Knights this past season but it's a nice snapshot of how he did.
While being an amazing playmaker this past season it begs the question, do the Devils need another playmaking-type player in their lineup? Of the Devils top six forwards, really Palmieri may be the only true "shooter" in the lineup – though Hall did make an impressive effort to be more versatile and scored 39 goals for his efforts. For the sake of trying to fit Perron into the lineup, let's assume that Johansson plays on the right side where he has in the past.
Hall-Nico-Palmieri
Perron-Zacha-Johansson
Wood-Zajac-Bratt
Coleman-Boyle-Noesen
There could be some mixing and matching there, maybe try to pair Perron with Palmieri to mesh their strengths together, but that's what I would go with at first glance. Zacha has a powerful shot and if he's able to improve his accuracy this off-season he may be in line to score a lot more goals next year, though that may (is) just me being hopeful. Either way, that's a good looking top six that may be a bit devoid of a pure sniper other than Palmieri.
Contract-wise, Perron picked a good season to have a career year as he'll be due for a decent raise this off-season. With that said, I can't imagine the Devils offering him more than a three, or four, year deal for maybe $5M-$6M. The Devils do have cap space to burn so that's not a type of deal that would hamper them but it's important to spend money wisely. Is Perron that kind of player and will he be able to repeat his success from last season with the Devils? It's a toss-up, he theoretically fits the style the Devils play but so did Grabner at the time they acquired him. But at the end of the day, the Devils have bigger needs across their lineup that should be addressed before looking to sign Perron.