It's hard to imagine the man that brought in Kyle Palmieri, Taylor Hall, and Marcus Johansson in three consecutive off-seasons will remain silent and not add to his current roster. If Ray Shero isn't able to find a deal he believes is beneficial for the team both now and moving forward, he may just roll with what the Devils currently have. That would be slightly disappointing, as other teams have gotten better around the Devils and after making the playoffs by the skin of their teeth last season, they may be due for some regression (if Shero stands pat).
I don't believe for a second he will, but let's say he does. How do the Devils look heading into next season, what would their lineup potentially look like? Let's take a look at the forwards first…
Taylor Hall – Nico Hischier – Kyle Palmieri
Marcus Johansson – Pavel Zacha – Jesper Bratt
Miles Wood – Travis Zajac – Joey Anderson*
Blake Coleman – Brian Boyle – Stefan Noesen
Nick Lappin
A lot of those spots, at least at the moment seem somewhat secure. Joey Anderson, and the third line right wing position, is really the only spot that has some flexibility to it right now. It also looks like that spot may be filled with a spry rookie and although my bet would be on recently signed Joey Anderson, Mike McLeod and Blake Speers could also make a case for that role in camp. The two latter players are coming off relatively disappointing years; at least they fell short of what expectations were of them heading into the season. Another year in the AHL may be good for Speers and personally believe McLeod is a true center, so it may be more beneficial for him to play that position in the AHL, rather than be a third line right winger in the NHL.
Moving onto the defense…
Andy Greene – Sami Vatanen
Will Butcher – Damon Severson
Mirco Mueller – Steven Santini
Ben Lovejoy – Egor Yakovlev
Honestly… it's bad, but may not be that bad if Coach Hynes gives Butcher more responsibility, and he plays like the way he did last season. Mueller played okay when healthy, and had a great World Championships that hopefully will carry over into next season. Santini is finally no longer waiver exempt, and should be an NHL regular this season. I'd ease him back in, and now with Vatanen the Devils have the luxury to do so, rather than throw him back to the wolves like he was last year paired with Greene. Yakovlev is a bit of a wild card. He's a defensive defenseman that may be able to help stabilize the back-end, but it's hard to tell how his game will translate to the NHL.
Again, I think it's unlikely Shero does absolutely nothing from this point to the start of the season, but maybe the right deal just isn't there. If this pattern does hold, what players may stand to benefit from the added responsibility they'll have in their roles?
Pavel Zacha
Granted, Zacha has a very long way to go, but he has showed a lot of progression this past season, even if it didn't show up on the scoreboard. From around the beginning of December and onwards, Zacha looked like a new and improved player, with that potential the Devils thought they were getting when drafting him sixth overall in 2015.
Because Zacha is one of my favourites, I decided to look at the splits to see if they backed up what I was watching (and they did). From October 7 to December 12 (23 games), Zacha tallied two goals and seven points. His corsi percentage during that time-frame was 44 percent, not exactly a good look. From December 14 to April 7 (46 games), Zacha generated six goals and 18 points with a corsi percentage of 51 percent, which is definitely an improvement. What's nice about Zacha's progression (not only mid-season but from his first to second year), is that he did nearly all of it with very little power play time. In 2016-2017, Zacha's even strength points/60 was 0.82 (stats via corsica.hockey) whereas last season, he increased that to 1.35 points/60 – for reference Kyle Palmieri had a P/60 of 1.36 this past season.
The stats corroborate what we saw out of Zacha this past season, and that's a clear progression in his game. Is he ready for the next step? I think so but if Shero goes out and grabs a veteran center to fill in that second line role, we'll never find out.
Will Butcher
It's very easy to point out the left side of New Jersey's defense needs work. Andy Greene isn't a top-pairing defenseman anymore and if he's going to shoulder that responsibility again, the Devils are in for a rough time. Finding a legitimate top-pairing defenseman is hard. Will Butcher isn't that guy (yet), but could be trusted with more responsibility. There's no getting around the fact that Butcher was a rather sheltered defenseman this season, receiving nearly 40 percent of his zone starts in the offensive zone (most on the team), on top of playing against relatively weaker competition. He was sheltered, but excelled.
Domenic Galamini Jr. recently released these charts to view scoring tier probabilities and shot impacts, essentially showing how likely it is a player produces at a certain level (first, second pairing, etc) and how they impact shots for and against while on the ice.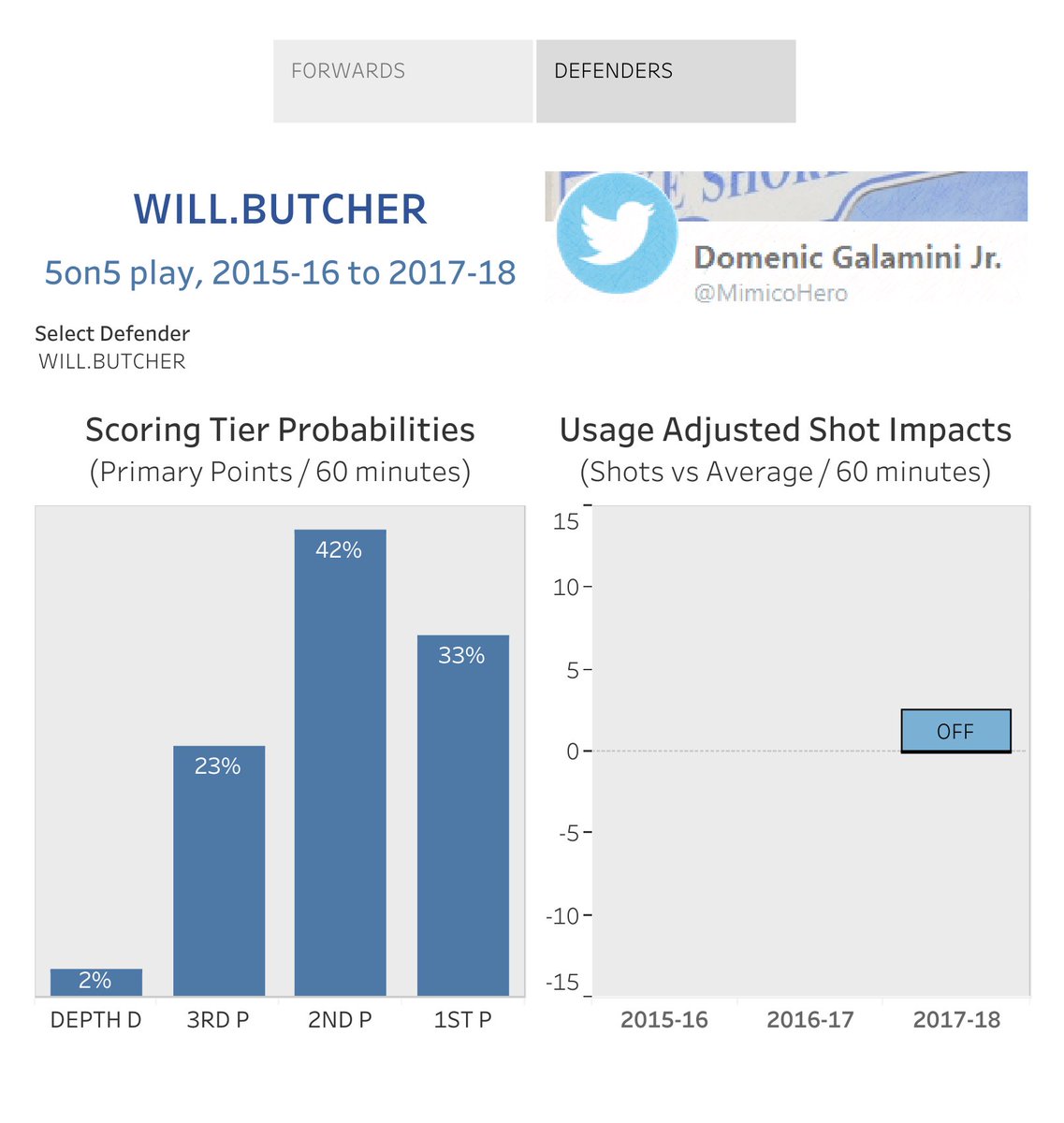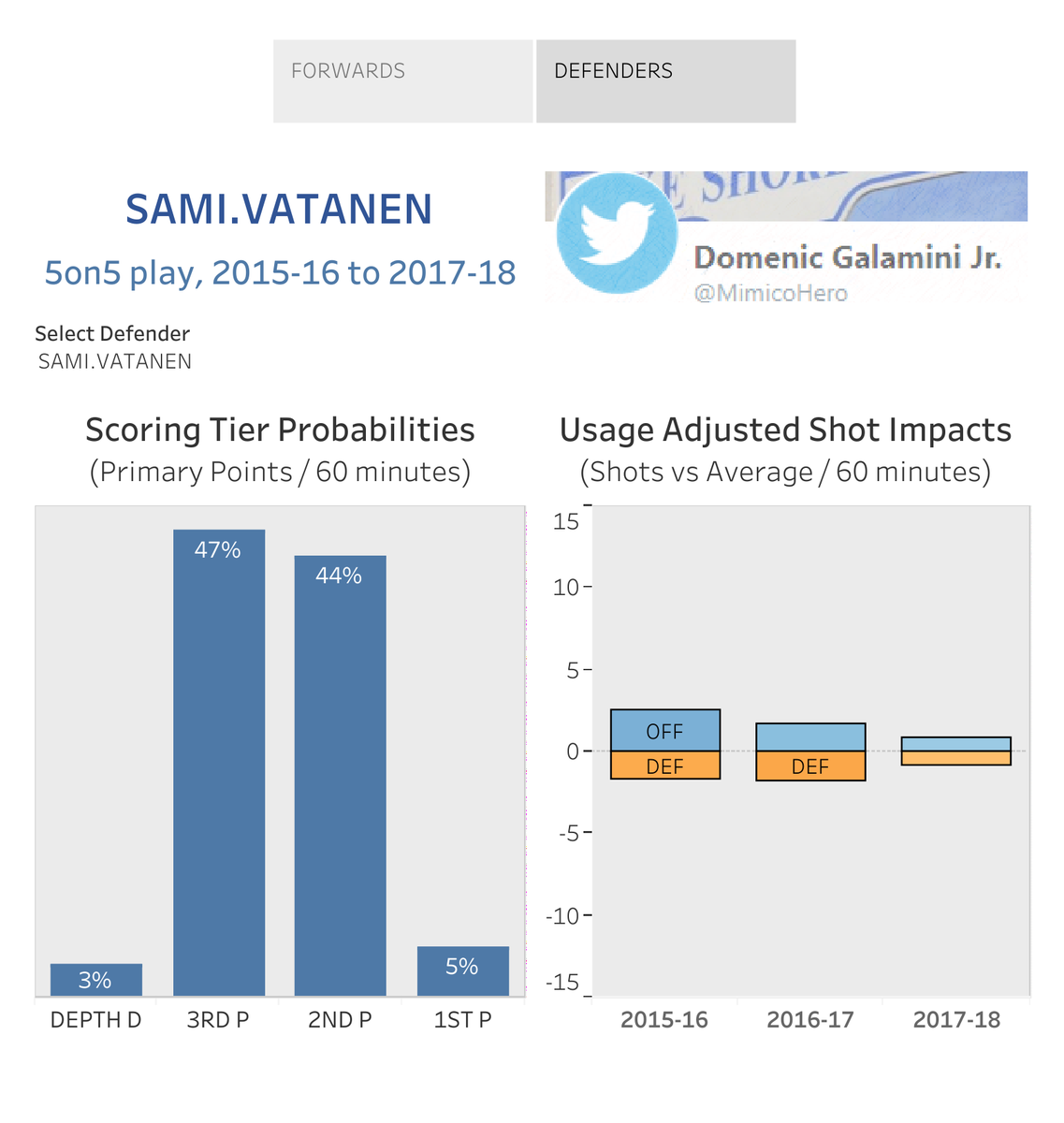 Will Butcher shows up very favourably on this table (for reference I've put Sami Vatanen's chart next to his to compare the difference). According to the graph, Butcher has a 75 chance chance to produce like a top-four defenseman, and impacts the team's shots for somewhat favourably. It's clear Butcher greatly helps the team in terms of scoring, and with regards to defense he's not terrible either. While he's not the fleetest of foot, Butcher is strong positionally and uses his stick well to compensate for lack of speed. With a good offseason of training Butcher can improve his skating, which should help him be even more effective. In the defensive zone, his smart positioning helps limit opportunities against.
Butcher's able to clearly help limit chances against around the crease, and for the most part out of any dangerous parts of the defensive zone in general. This type of defense, on top of the offense he provides, shows that he is ready to at least be given the opportunity to play more, and tougher, minutes. If he really struggles then that would be unfortunate, and the Devils will have a large hole to fill. But at the very least they can slot Butcher back into a similar role like he was in last season and expect him to excel.