The New Jersey Devils (23-27-10) likely will not make the playoffs this season, and the Washington Capitals (37-17-6) will make the playoffs. More importantly, the two teams face each other today in a weekend matinee, as the trade deadline is less than 48 hours away. After Andy Greene and Blake Coleman were shipped off to Long Island and Tampa Bay, respectively, three Devils' names have been floating around in various subsequent trade rumors: Wayne Simmonds, Kyle Palmieri, and Sami Vatanen. Palmieri's presence in the lineup for today's game suggests a lack of significant enough conversations among potential suitors.
Trade talk aside, a key emerging storyline for today's matinee is Alex Ovechkin closing in on his 700th goal. Devils' fans have unfortunately been hard-pressed to witness epic, historic milestones at the Prudential Center in recent years, and today's game offers a chance at just that. Although it's an opponent's milestone, it's still a big one. Will Ovechkin score his 700th at The Rock? He's played 56 career games against the Devils, with 29 goals. Eventually, New Jersey will have its own superhuman, legendary goal-scorer who can force the puck into the net with an ethereal flick of the wrist. For now, let's just marvel at the opponent and the underrated, but talented Mackenzie Blackwood's attempts to stop him.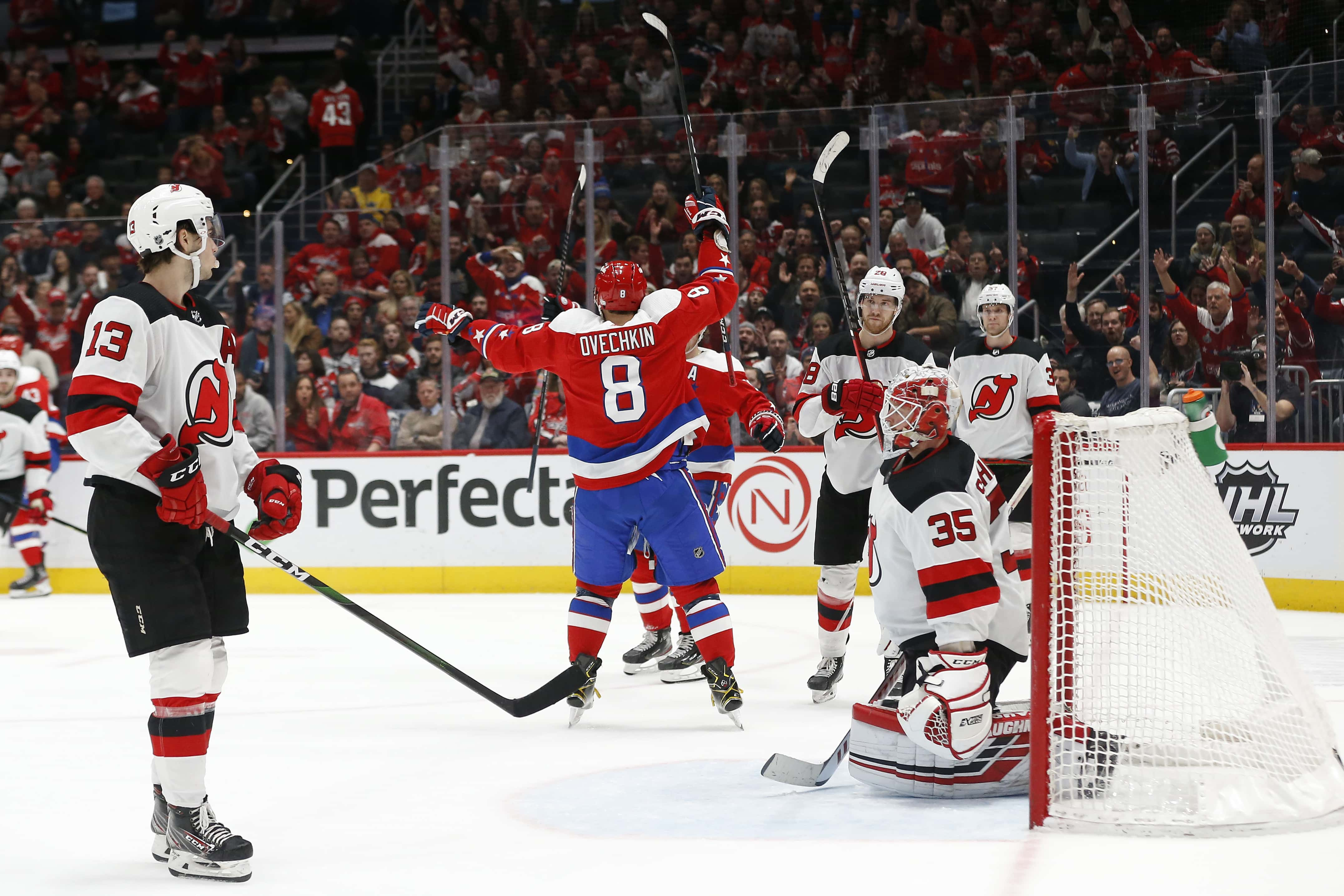 Projected Lines
Washington
Ovechkin – Kuznetsov – Wilson
Vrana – Backstrom – Oshie
Hagelin – Eller – Panik
Leipsic – Dowd – Hathaway
Dillon – Carlson
Kempny – Orlov
Siegenthaler – Jensen
New Jersey
Hughes – Hischier – Palmieri
Bratt – Zacha – Gusev
Merkley – Zajac – Simmonds
Hayden – Rooney – Anderson
Mueller – Subban
Mermis – Severson
White – Carrick
Keep Your Eyes On…
Washington's top PP unit: Carlson at the top of the point, Ovechkin at the left circle, Oshie at the bumper, Kuznetsov at the right circle, and Backstrom behind the net. Yikes.
Alex Ovechkin: For obvious reasons
Wayne Simmonds: Precarious future? Yes. Still, whether it's from a big hit or a goal, look for him to make his mark this afternoon.