Something Old, Something New: The 2013-14 Metropolitan Division
With the new NHL realignment comes a new Division and new regular opponents for your New Jersey Devils. It also changes the way the Devils will interact with teams they've played against for decades now. New rivalries will form and some fire will be added to the old ones, so let's take a look at how the 2013-14 season will look for the Devils within the new Metropolitan Division.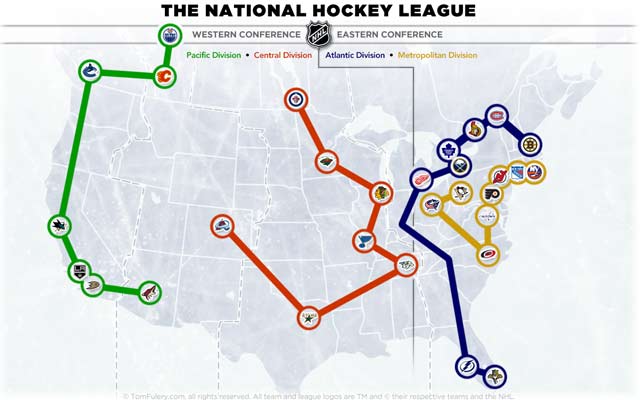 The Teams & Structure
The new Metropolitan Division will now include 8 teams, as opposed to the 5 teams in the previous Atlantic Division. The Division will now include the New Jersey Devils, New York Rangers, New York Islanders, Philadelphia Flyers, Pittsburgh Penguins, Carolina Hurricanes, Columbus Blue Jackets, and Washington Capitals, effectively making it the "Atlantic Division Plus Three". The Devils are used to playing four of those teams fairly regularly, but the teams won't face each other as frequently as they used to, which should make for an interesting dynamic this season. Under the new structure, the Devils will play two of their Division rivals five times throughout the season (3 home/2 away against one team, 2 home/3 away against the other), and they'll play the remaining five teams a total of four times (2 home/2 away). This means that Division games will now make up 30 out of 82 regular season games, as opposed to 28 in the previous structure. To help clarify, here's what next season will look like against our Division rivals:
New Jersey Devils vs Carolina Hurricanes: 2 Home, 2 Away
New Jersey Devils vs Columbus Blue Jackets: 2 Home, 2 Away
New Jersey Devils vs New York Islanders: 2 Home, 3 Away
New Jersey Devils vs New York Rangers: 3 Home, 2 Away (1 of those home games is technically the game at Yankee Stadium on January 26)
New Jersey Devils vs Philadelphia Flyers: 2 Home, 2 Away
New Jersey Devils vs Pittsburgh Penguins: 2 Home, 2 Away
New Jersey Devils vs Washington Capitals: 2 Home, 2 Away
Throughout the coming season, the teams we play 5 times will rotate throughout the Division, as will who we play 3 games against at home or away.
But What Does It All Mean?
So if this all seems like a lot to take in and a little confusing, it's probably because it is. At first, at least. It's a much different system and has a few more nuances than the old "Play Everyone Six Times" Format. But in the end, this could mean a lot for already established rivalries and could brew some new ones. The Devils and Penguins, who have combined for 7 of the past 10 Atlantic Division titles, only play each other four times next year, making each game extremely important for two reasons; a) gaining points, and b) getting to know the other team before Playoffs start (we'll get to that later). So as if the Devils didn't already have enough incentive to play their hardest against the Penguins and Flyers, now they have some more. On top of this, they play their three new Division rivals (Carolina, Columbus, and Washington) in a 2-and-2 format as well. The Hurricanes are a team that I always thought the Devils had a semi-rivalry with (especially following a certain playoff year that will go unnamed) so look for that to heat up this season, along with some new rivalries to be formed with the Blue Jackets and Capitals. All in all, the new format, while a little confusing with the number of games played, should make for some very passionate, intensity-filled games, especially towards the end of the season.
Playoffs?! We're Not Talking About Playoffs!
Actually (all Jim Mora jokes aside) we are. Why are we talking about playoffs in August? Because the format has completely changed from what it once was. Gone are the 1-vs-8, 2-vs-7, etc match-ups in the previous model, and in is an all new Division-based playoff structure. What's that mean? In short, There's a much higher chance of a Division rivalry happening right out of the gates in the NHL playoffs, which should make for a very interesting first round of the playoffs. Here's how it works: The top three teams in each Division are in the playoffs, after that, the two teams with the highest points (regardless of Division) are entered as Wild Cards. This will give the East and West Conferences the usual 8 teams, but that's about where the similarities end. The highest Wild Card team will play against the Division winner with the fewest points, while the lowest Wild Card will get the higher Division winner. These teams will, for all intents and purposes, join that Division for the first rounds of the playoffs and be assigned a #4 seed. The first round will be the #1-vs-#4 seed and #2-vs-#3 seed within the Division, with the winners of those series playing each other in the following round. This means that a) the first two rounds of the playoffs are purely within the Division, and b) the final four teams will each represent a Division (unless a Wild Card team wins it all). After these first two rounds, the Eastern and Western Conference Champions are decided by the Metropolitan and Atlantic Division winner facing off, and the Pacific and Central Division winners doing the same. As usual, an East-vs-West Championship will follow.
So there you have it, a quick look at the 2013-14 Metropolitan Division and what it means for your New Jersey Devils. Fewer games against more opponents and a Division-based playoff system are all going to culminate to make some awesome hockey to watch. Each regular season game will mean more, and the odds of facing the same team in consecutive years in the playoffs just increased a pretty good amount, which will make for some very passionate games. Grab a seat everyone, this is gonna get good.
Posted on August 22, 2013, in Devils Army, Devils Army Generals, New Jersey Devils, New Jersey Devils Fans, NHL, NHL Playoffs, Prudential Center, The Rock and tagged Carolina Hurricanes, Columbus Blue Jackets, Metropolitan Division, New Jersey Devils, New York Islanders, New York Rangers, NHL, Philadelphia Flyers, Pittsburgh Penguins, Prudential Center, Realignment, The Rock, Washington Capitals. Bookmark the permalink. 1 Comment.